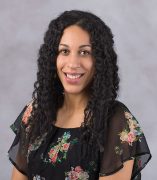 Shannon M. Williams, PhD
Director, TRIO Programs (UB & SSS)
PhD, Community Psychology
About
"Change will not come if we wait for some other person or some other time. We are the ones we've been waiting for. We are the change that we seek."    -Barack Obama
Dr. Shannon Marie Williams is the Director of TRIO Programs at UIC: the Student Support Services (SSS) Program and the Upward Bound Program (UB). Dr. Williams received her PhD in Community Psychology from DePaul University. She has worked with the Arnold Fellows Mitchem Program, and both the TRIO McNair Scholars Program and TRIO Student Support Services Program, within the Center for Access & Attainment at DePaul. She was also the inaugural TRiO McNair Scholars Director at Roosevelt University. She has always been passionate about diversity, along with guiding and supporting other low-income, marginalized, first-generation college students to succeed in college and beyond, also connected to her experiences as a previous McNair Scholar. She served as the Illinois TRIO member of the Emerging Leaders Institute (ELI) within the Educational Opportunity Association (EOA), and was the keynote speaker at both the EOA National TRIO McNair Research Conference along with the NEIU TRIO Awards Ceremony Reception during Leading & Learning Week. In addition, Dr. Williams had the opportunity to engage in the Global Growth Experience (GGE) in Dublin, Ireland, teaching and conducting research, and later as a member of the TRIO family taking students overseas to multiple countries for their own abroad research experiences.
At UIC, she successfully created and implemented the 1st annual First-Generation College Student Celebration to coincide with the National TRIO COE celebration in Fall 2018 to continue every year! With a STEM grant for UB, she helped to implement a Health Science Conference in partnership with the Urban Health Program, and was co-chair for the Annual National TRIO Women in STEM Conference that took place at UIC for the 1st time in 2019! In addition, she connected with the American Psychological Association to provide a Youth Forum on campus for TRIO students and community partners with Div. 45.
She also loves to travel, and enjoys music, acting, and playing soccer.