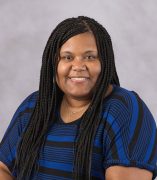 Janaya Shaw, Ed.D
Curriculum & Instruction Manager
Ed.D, Educational Leadership
TRIO Upward Bound Program
About
Dr. Janaya Shaw is the Curriculum and Instruction Manager of the Upward Bound Program at the University of Illinois at Chicago. She received her Ed.D. in Educational Leadership from Chicago State University. Dr. Shaw has had a wealth of classroom experience with K-12 literacy instruction and college level instruction. Her passions include literacy development and supporting the success of low income, first-generation college students.
Dr. Shaw is also committed to assisting those in need and the betterment of communities around the globe. Her life membership in Sigma Gamma Rho Sorority, Inc. has allowed her to work annually with Operation BigBookBag, the Hattie McDaniel Breast Cancer Awareness and Health Program, Project Reassurance, the Youth Symposium, March for Babies March of Dimes, St. Jude Children's Research Hospital, USA Swimming/SWIM 1922, etc.
She enjoys spending time with her family, traveling, and listening to music.